Men's Durable Action Back Overall
WA04
Men's Durable Action Back Overall
Fabric: CORDURA® - Duck Weave Canvas ,345gsm - 100% Fine Cotton.
Description: 100% Duck Weave double strength pre-shrunk Cotton canvas. Double chest pockets, durable patches on pockets, silicone washed for comfort, roll-up sleeves. Double stitched.
Quantity
minimum quantity: x available in bundles of: x Product ordered in bundles.
*
GST not included in above pricing. Embroidery pricing is based on cost of guarment plus 1 placement of embroidery, up to 4000 stitches. Screen printing pricing is based on guarment plus 1 placement print, 1 colour only.
Sizing
Size Guide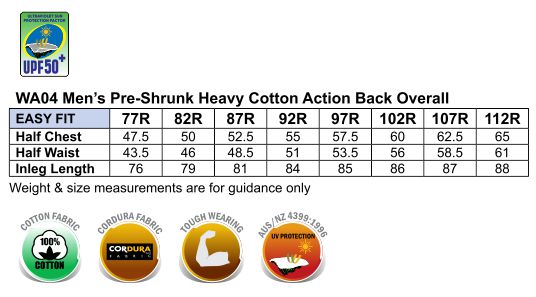 Discounts
| Minimum purchase | Discount |
| --- | --- |
| 20 + items | 5.0% |
| 50 + items | 7.5% |
| 100 + items | 10.0% |